Macleods Pharma Walk In Interview 2023 | Officer / Sr. Officer / Trainee & Others | ITI / Diploma / Degree | August 2023 |
A vertically integrated, Global Pharmaceutical Company. Established in 1989, we are engaged in developing, manufacturing, and marketing a wide range of formulations across several major therapeutic areas including anti-infectives, cardiovascular, anti-diabetic, dermatology,

and hormone treatment. We develop, manufacture, and globally distribute a broad range of pharmaceutical products across therapies in multiple dosage forms such as solid orals, liquid orals, topical formulations, injectables (Dry Powder) metered dose inhalers and dry powder inhalers. 
Macleods Pharma Ltd Overview – 
| | |
| --- | --- |
| Company Name | Macleods Pharmaceuticals Ltd. |
| Company Location | Dahej, Sarigam, Daman |
| Qualification  | ITI/ Diploma/Degree |
| Job Role | Trainee, Trainee Technical Associate, Officer, Sr. Officer |
| Company Website  | www.macleodspharma.com |
Qualification & Experience :-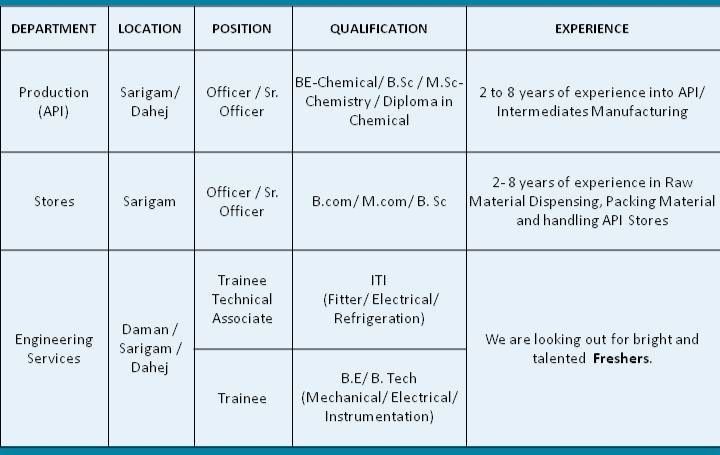 Note – 
Please Walk-in with your updated CV, Salary structure (CTC break up) & Aadhar card
Salary – Not Disclosed by Recruiter
Macleods Pharma Ltd Walk In Interview Details –
Date : 06 August 2023
Time : 09:00 AM
Venue : Hotel Woodlands, National Highway no.8, Balitha, Vapi, Gujarat-396191
Apply Link – Click Here
For More Details – Click here 
सूचना – ऊपर दी गयी नौकरी की जानकारी इंटरनेट शोध के आधार पर रखी गई। इस वेबसाइट पर उपलब्ध जानकारी को यथासंभव प्रामाणिक बनाने के लिए सभी प्रयास किए गए हैं। कृपया इस वेबसाइट में दी गई सभी जानकारी की पुष्टि करने के बाद ही कोई निर्णय लें क्योंकि सभी जानकारी इंटरनेट शोध के आधार पर रखी गई है और यह ब्लॉग किसी भी जानकारी के गलत या सही होने का दावा नहीं करता है। इसलिए बाद में इस वेबसाइट के मालिक की किसी भी तरह से जिम्मेदारी नहीं होगी |